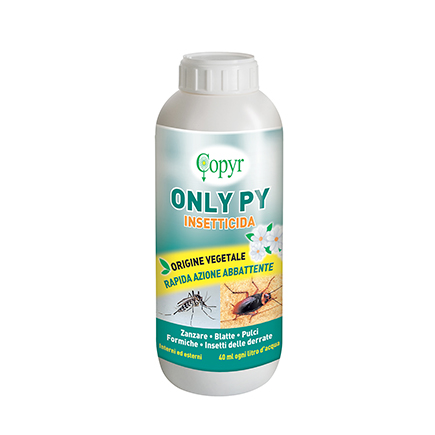 All products
Insecticides Only PY - 1Lt
Concentrated insecticide 1 lt bottle - PMC - Reg. N. 20421
Target
Mosquitoes, Cockroaches, Fleas, Ants, Flying and Crawling Food Insects
Tecnical info
Scheda tecnica non disponibile
: 112,24 €
Price: 112,24 €
Add to cart
Products added to the cart: 0
Characteristics
Concentrated insecticide easily emulsifiable in water, based on Pyrethrum extract, completely natural, suitable for all types of environments. It boasts a rapid killing and flushing action for the control of flying and crawling insects, even in sensitive environments. Characterized by a very low toxicity towards humans and non-target animals.
Use environments
Homes, Public buildings and offices, Healthcare facilities, Ho.re.Ca., Food sector, Means of transport, Industry and Logistics, Public and private green areas, Waste deposit dumps
Mode of Use
Emulsify in water. Average dilution 4%.
Related Products:
- Red Top;
"If you are interested in our products contact us on Whatsapp"
Carla
Commercial manager
Chat with me