Risks and damage caused by pigeons
2016-09-16 Dott.sa Carla Petta posted:
They populate our cities, our squares, our houses and our terraces. We are talking about pigeons.
These animals create problems of hygiene and, with their dejections, important problems for the structural parts of the buildings in which they dwell.
These birds are carriers of diseases and infections such as salmonellosis, ornithosis, chlamydosis, aspergillosis, histoplasmosis and tuberculosis.
The pathogens of these diseases are found in their excrement, which infected dust can be transported in the domestic environment by the wind rather than by the aspirators and fans, contaminating food, utensils and linen or even being inhaled.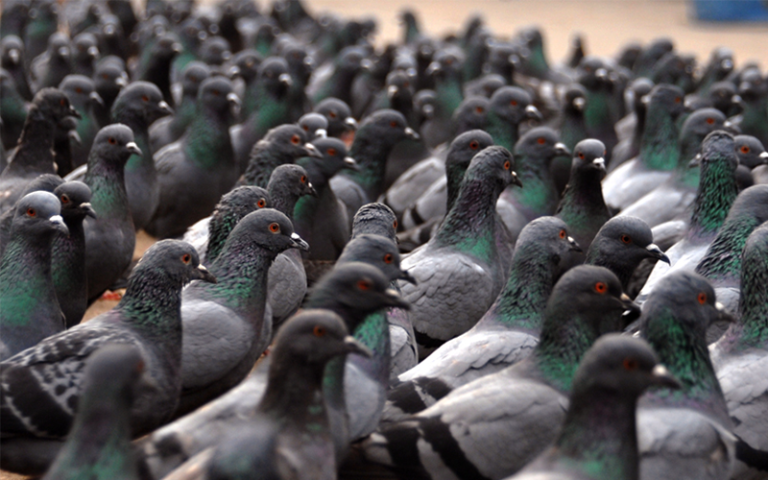 The excrement of this bird, in addition to smearing, contains corrosive substances that affect the integrity and appearance of cornices, walls and other structural parts of buildings.
Not only its dejections but the pigeon itself is the vector of various parasites such as ticks, lice and mites that, nesting in the plumage of the animal, move with it infesting the environments in which they pass.
The volatile removal service of Gallura Disinfestazioni provides various solutions to try to prevent these situations with the installation of specific bollards (mechanical or sound), anti-intrusion networks, electrified and disabituating biological gel systems, depending on the characteristics of the place infested or safeguard.
If the pigeons stain your porches, prevent the correct functioning of the photovoltaic panels or simply disturb you with their tubing, contact us for a free estimate suited to your needs.