The importance of an annual rat catching service
2018-04-19 Dott. Pietro Carta posted:
The annual execution of a rat catching service is the best method to contain the infestations of mice and rats and to prevent their re-occurrence.
The rat catching service is managed considering the main environmental and structural factors, the extent of the problem and the objectives agreed with the customer.
Different methods of control and intervention are implemented depending on the environment to be treated: schools, hospitals, institutions, libraries, parks, such as private apartments, villas, hotels, campsites, condominiums, gyms, swimming pools, bars, restaurants, supermarkets, industrial warehouses , means of transport such as ships and planes.
With a cycle of a minimum of 8 operations a year, the area subject to service is constantly monitored.
Preliminarily an inspection is carried out to analyze the area to be treated and to choose the type of intervention required. Secondly, in the case of chemical rat catching, with the installation of rodenticide bait dispensers, enough to cover the affected area with particular attention to critical points. The bait containing the active ingredient is anchored in the dispenser's compartment, preventing it from accidentally coming out. In this way an external dispersion of the bait is avoided, thus allowing an effective verification of its consumption.
Regulators are regularly checked to replace gnawed or damaged baits.
After each intervention it is our habit to compile a report in which the technicians describe the situation encountered, the critical issues and any corrective actions.
It is our practice to provide the mapping on the plan of the installed stations, essential for the safety of animals and unaware people and an indispensable tool for analyzing the degree of an infestation.
Thanks to the mapping of the stations you can in fact create graphical analyzes (see figure) that allow you to check which areas are most affected, those in which you have to focus more attention and in general if the implemented strategies are adequate or if you need to make of changes/tricks.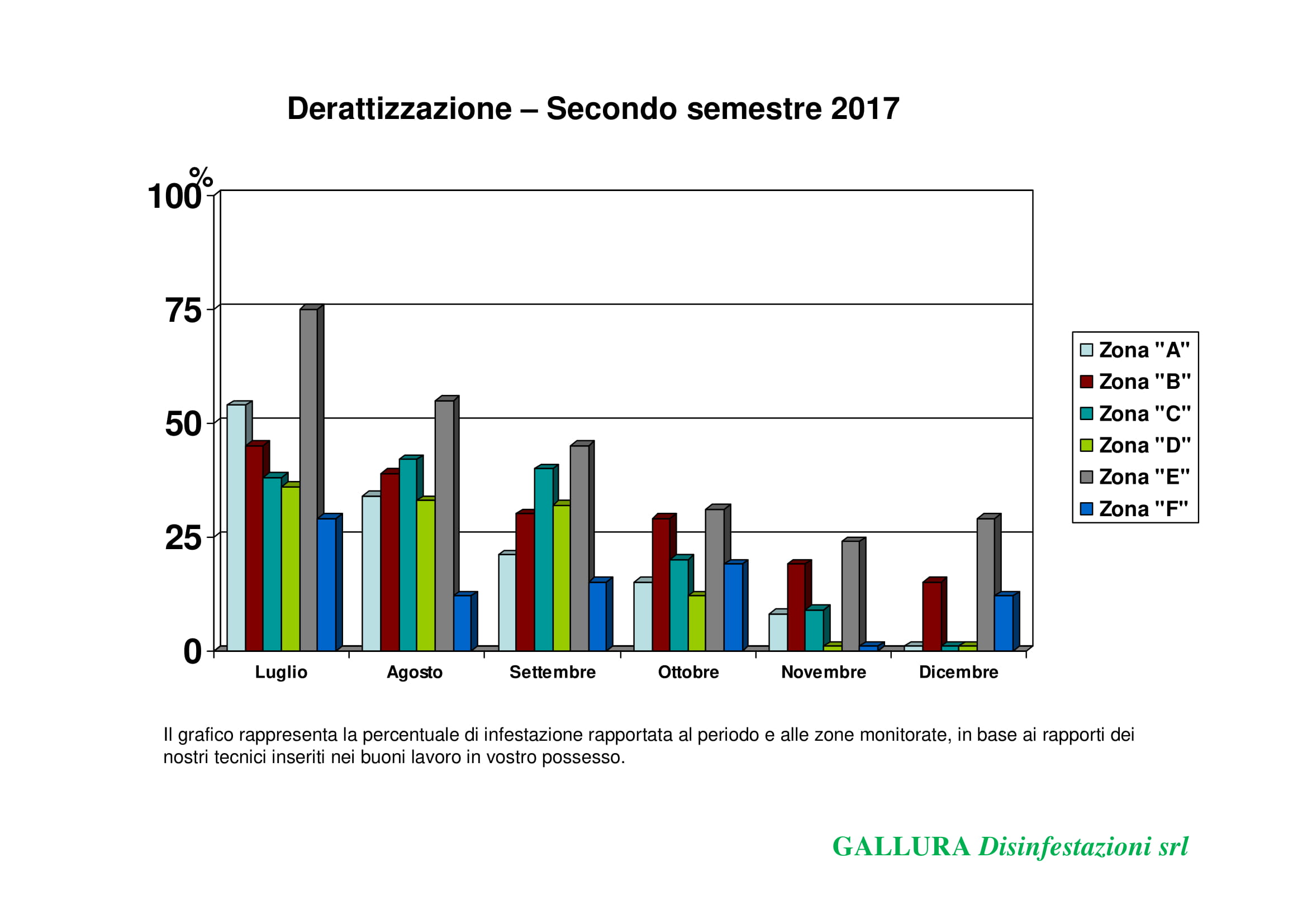 The company of Olbia Gallura Disinfestazioni is expert in various types of rat catching, both chemical and ecological (the latter follows different processes that we will describe later in our blog).
Thanks to the experience of its technicians, it offers advice and advice on rat-proofing which, if respected and combined with the execution of the service, guarantee high chances of success in the fight against rodent infestations.